Analysis
Government Capture of (Electric) Power in Punjab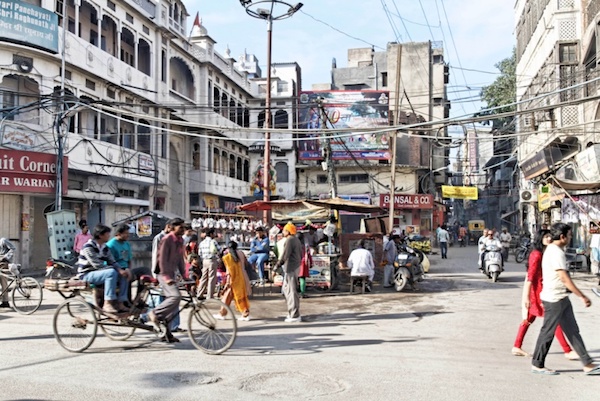 Photo credit: Market district in Amritsar, in Punjab, India. Source: Rwoan's flickr photostream, used under a creative commons license.
By
Sharmila Bellur
Posted on
Punjab state assembly elections were held on February 4, 2017, with results set to be announced March 11. Punjab, with a population of over 27.7 million, is famed for providing electricity to almost all the households in the state — a stark contrast to the national average of 68 percent. It also holds the distinction of providing round-the-clock power supply, while many other states suffer from daily power outages. Its power distribution company Punjab State Power Corporation Ltd (PSPCL), was chosen as the best performing utility in the power sector in 2015. The Prakash Singh Badal-led Akali Dal/BJP coalition that has been in power in the state since 2007 takes credit for transforming Punjab from a position of power deficit to power surplus while securing universal power access for its people. But this is not the whole story: PSPCL faces severe revenue deficits, and no party has presented a power plan that would prevent looming degradation in services.
In recent weeks, the tendency of the political class and of government departments in Punjab to avoid payment on their electricity bills has come to light. In February of this year, PSPCL's response to a Right to Information application revealed that PSPCL is owed $108 million (Rs. 720 crores) by 35 government departments. One of Akali Dal's leaders alone owes $35,000 (Rs. 23 lakhs). Apart from the non-paying departments, 828,000 individuals, or 10 percent of the 8.2 million consumers in the state, also owe $60 million (Rs. 398 crore) to PSPCL. Some of the payments have been due for over two years, in gross violation of the rules of power supply, which mandate that power supply be disconnected for non-payment of bills 15 days after the due date. In a bid to recover dues, the power supply to some of the major violators has been disconnected (although this did not take place until after the election). The timing of these disconnections calls attention to the lack of political backing for recovering the dues.
Populist election promises would compound PSPCL's financial distress. Punjab Congress' leader Amarinder Singh promised a 10 percent reduction in the electricity duty throughout the state if the party is voted to power. The Aam Aadmi Party promised 12 hours of free electricity for farming, subsidized electricity for dairy farmers, and reduction of power tariff for households with low consumption. The Akali Dal, in contrast, claims that Punjab is a power surplus state, points out that the tariff is amongst the lowest in the country, and promises to build on its previous success.
In the meantime, PSPCL is seeking a 20 percent increase in the standard tariff, citing a revenue deficit of $1.7 billion (11,575 crore), over half of which was carried over from previous years. The Punjab State Electricity Regulatory Commission (PSERC) has said that it will announce the tariff for 2017-18 in consultation with the new government. As Punjab is entering the multi-year tariff regime (which ensures that tariffs do not fluctuate outside a certain band), the new government will need to make an important decision that will essentially set the tariff until 2020.
Having already achieved a strong position in electricity access, Punjab has the potential to efficiently use its power resources to improve household consumption and reap the economic benefits of higher consumption per household. Whether Punjab manages to achieve this goal while avoiding racking up debt will depend on the role of politics and populism in the functioning of PSPCL and PSERC. Whichever party comes to power should utilize its first 100 days to free PSPCL and PSERC from political influence in order to allow them to increase the tariff and recover dues to improve the financial health of the power sector in Punjab.